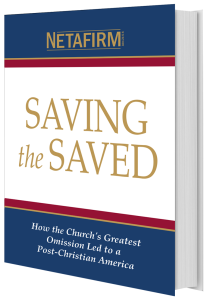 This chapter preview is from Saving the Saved: How the Church's Greatest Omission Led to a Post-Christian America, written by James Darnell, Jr. and Jessica Thielen. Paperback and Kindle editions are available at Amazon.
Chapter 11
Hope for the Church
Perry Noble, founder and senior pastor of multisite NewSpring Church in South Carolina, reaches thirty-two thousand people each weekend with his sermons. Noble is a passionate communicator and mentor to pastors, and his leadership coaching website, NewSpring Network, accurately states, "Don't worry, he holds nothing back."[i] At NewSpring's 2009 Unleash Conference, Noble held nothing back about his opinion on discipleship when he told over two thousand pastors, "The jackass of the church is the person who always screams, 'I want to go deeper.'"[ii] Noble then went on to state that a person's commitment to Christ is revealed by how much he or she serves others and tithes. Noble said, "You are only as deep as the last person you served. You want to talk deep? Let's check your tithing record and see how deep you are."[iii] Why would a megachurch pastor attack Christians who desire to grow and want to discover the "more" of their faith?
Are you ready for the answer? Many of these pastors, such as Noble, are in the business of growing and preserving their own kingdoms. They have impressive leadership skills, are charismatic, and have learned from their mentors all the profitable ways to increase their empires to epic proportions. This includes convincing you that discipleship is an act of selfishness, so your focus should be on supporting your pastor's dream for ministering to the greatest number of people imaginable through your service and tithes. So, the attack on Christians is not just from unrelenting atheists, sinister organizations such as ISIS, or even progressive ideology. No, this attack on Christians comes from our own church leadership who has substituted Christ's righteousness with man's righteousness. In addition, I believe America's post-Christian status is a direct result of the church's failure to disciple Christians to understand who they are in Christ and help foster a genuine fellowship of believers.
The Institutional Church
The institutional church is where you go on Sunday morning to worship the Lord and hear a pastor's message. Now, this church talks a good talk by claiming its programs and projects are advancing the kingdom of God. But, the reality is that without discipling its congregants to understand who they are in Christ, it is just a socially comfortable institution of Christians, seekers, and nonbelievers who have learned to worship the Jesus of their church's theological choosing. These churches rob Christians of their right to know who they really are in Christ by replacing discipleship with their fine-tuned doctrines and socially acceptable good works. Let's look at this model:
The six items on the left of figure 3 are the best practices of the institutional church. These practices are based upon some version of the Judeo-Christian worldview. These churches grow in membership through evangelism and the teaching of biblical knowledge through preaching, church schools, Sunday schools, and small groups. The Lord's Supper and baptism are commonly practiced sacraments. In addition, through corporate affiliations, these churches support global missions. The results on the right of figure 3 are not bad, but at this point you are well aware there is more to the faith than good works, church events, social justice, and contributing to building projects and missional programs.
Remember, many pastors who lead these institutions are not willing to do the hard work it takes to disciple Christians into the kingdom of God. If the church only produces the five results in figure 3, then the institutional church's best practices advance the church, not the kingdom of God. It is my contention that the condition we find ourselves in today, which is a post-Christian America, is based upon the fact that these institutional churches have dropped the ball on discipling Christians and have left them ill-equipped to counter the effects of secular humanism and progressive ideology. Therefore, congregants of the institutional church must stand for what belongs to them and demand their church leaders make discipleship the number one priority of their ministries.
Pleading to your church leaders to disciple the congregation is not an easy task. Today, the institutional church functions as a business and often requires its pastors to act as CEOs rather than shepherds. In addition, the postmodern church is so preoccupied with "keeping up with the Joneses" (slick Sunday services, social justice projects, and messages that embrace the culture) that there is no time to develop and implement a discipleship ministry into its already packed schedule. Some of you might be up against your church's centuries-old traditions that have never included discipleship. It would take a major upheaval to get these churches to change.
So you, the believer, play an integral part in this process. The conversation about how the church must change needs to happen. You may have to get a bit noisy and be salt and light in your congregation. You may encounter a pastor like Perry Noble who considers you to be the "jackass in the church." But, you may come face-to-face with the pastor who wants to go in the direction of discipleship and just needs the support of his congregation to move forward. Also, be sensitive to the fact that change is a process, not an overnight solution to years of misguided ministry. I will say it again: if the church is ever going to take discipleship seriously, you have to initiate the conversation.
The Great Integration
Here's the thing: I know in my heart there are many churches that want to do the right thing and disciple their people to be genuine followers of Christ. I personally believe discipleship is not a program, but an all-encompassing, lifelong process of leading people to Christlikeness. This process is most effective when it is done within your family or within an intimate small group of believers over a period of time. I base this on Jesus' model for teaching His disciples. However, the institutional church can change its best practices and provide an environment in which discipleship can thrive. Here are some guidelines the church should seriously consider in order to transition into a fellowship that makes discipleship its number one priority.
Teach the Authority of the Scriptures
My previous church consultant experience and research for this book have made it very clear that many pastors compromise the authority of the Scriptures in order to put forth their denomination's agenda or their own agenda with the church. But, for a church to become a fellowship, a pastor must present the Scriptures as an infallible and inerrant work of God.
Ever since the first century, the Bible has been under attack in one form or another. Many of these attacks are based on old familiar claims by liberal literary critics. With thousands of manuscripts and the discovery of the Dead Sea Scrolls, we have come to understand there are variances in how things are said, but not significant errors. These variances make little or no difference in the meaning the Holy Spirit communicated to the biblical authors. Remember, it was the Holy Spirit who superintended the scribes to complete the tedious work of copying manuscripts. Therefore, you can trust the Scriptures as we have them today, and you can believe the messages revealed in them are what God wants to communicate to all of His people, both Jewish and Christian. Scripture states, "All Scripture is God-breathed and is useful for teaching, rebuking, correcting and training in righteousness, so that the servant of God may be thoroughly equipped for every good work" (2 Timothy 3:16-17).
If the pastor wants to look at Scripture through the eyes of textual criticism or any other critical interpretation tool, fine. But he should never confuse the congregation of God's people with man's subjective thinking. Whether or not the church is Roman Catholic, Protestant, or Evangelical, no pastor or priest should ever reject the infallibility and inerrancy of the Scriptures. This is not an option and will determine whether or not your church can move forward and become a true fellowship or just remain a compromised religion.
Practice the Love of Christ
In order to integrate discipleship into our ministries, the fellowship of believers must practice the love of Christ (agape love) in the proper context and interpretation of Scripture. The reason you must understand agape love is because, unfortunately, many postmodern pastors have marginalized this love to be about forgiveness or a global social agenda of good works. The love of Christ within us is so much more than turning the other cheek or giving money to dig wells in Africa. Agape love is the testimony of grace in our hearts toward people and, most importantly, toward our Christian brothers and sisters. We express agape love when we live as ambassadors of Christ by bringing a ministry of reconciliation to the world. Paul verified this purpose when he said, "We are therefore Christ's ambassadors, as though God were making his appeal through us. We implore you on Christ's behalf: Be reconciled to God" (2 Corinthians 5:20). This reconciliation is not an ingredient to bring peace and social justice to the world, but rather the process of you presenting the Gospel to the unregenerate and discipling Christians to seek holiness and righteousness.
When it comes to the unregenerate, we are to view these people how Jesus views them—in need of a Savior for their sins. Agape love means putting every effort and resource into reconciling the unregenerate to God. This means changing the person, not just changing the environment or circumstances. Yes, we can provide shoes to the poor in Haiti, but that is not the total package of reconciliation. The people in Haiti also need to accept Jesus' gift of salvation and then the fellowship needs to continue to express agape love by discipling them. The goal is to continuously seek Jesus' righteousness, serve one another, practice the love of Christ, and persevere when evil attacks or hardships come their way. So, agape love entails the beautifully messy process of teaching, caring for, and genuinely loving a person with the truth about God's reconciliation.
Accept God's Sovereign Design for Creation and the Family
The Holy Spirit inspired the truth of the Scriptures. When that truth is tampered with by man-made theologies and philosophies, man's new interpretations are disconnected from the Holy Spirit. Listen, a church cannot disciple its people if it denies, allegorizes, or ignores the truth of the Scriptures, including the biblical account of Creation, God's plan for marriage, and the Fall of mankind in Genesis chapters 1 through 3. In fact, Christian beliefs are based upon the first eleven chapters of the Book of Genesis. You need to consider the implications of compromising the foundational chapters. If this foundation is compromised, there is no real reason to accept the authority of the New Testament, or for that matter, Jesus Christ as the Messiah and the Son of God.
The church must recognize Satan as "the father of lies" (John 8:44), including matters of creation and the family. We are in post-Christian America with God's design for creation being replaced with man's theory of evolution, the family redefined, and the idea of sin being irrelevant. In the kingdom of God, there is no compromising God's sovereign design for creation and the family. This is not evangelicalism or conservatism; this is good solid biblical interpretation.
Explain the Holy Spirit and Develop Spiritual Gifts
When the Apostle Paul interpreted Jesus' teachings, everything was interpreted in light of how we should live in the kingdom of God. Similarly, Paul had the kingdom of God in mind when the Holy Spirit inspired him to explain spiritual gifts. I want to focus on two categories of gifts that are frequently glossed over or misunderstood by many churches—the functional gifts and the equipping gifts. Functional gifts give leadership and motivation to your born-again nature. Equipping gifts assist the church with needed workers to transition from an institutional church to a fellowship.
Functional Gifts
Thousands of books have been published on leadership, motivation, and personality. There is a trend today among America's churches to promote secular leadership principles for personal growth and church leadership. These secular principles are rooted in business, philosophy, and psychology. However, real leadership that impacts the kingdom of God shines when the God-given functional gifts are activated and discipled within a believer.
Jesus Christ possesses all seven of the functional gifts. When you invited Christ to be Lord of your life, the Holy Spirit provided you with one of these leadership gifts as a personality characteristic that advances the kingdom of God today and will be with you for eternity. The Apostle Paul gave an explanation of these functional gifts in Romans 12:4-16. The reason I am addressing them now instead of the previous chapter is because Christians need to be discipled by their fellowships to understand the functional gifts.
The functional gifts take their name from Romans 12:4-5. Paul said, "For just as each of us has one body with many members, and these members do not all have the same function, so in Christ we, though many, form one body, and each member belongs to all the others." Paul goes on to say, "We have different gifts, according to the grace given to each of us. If your gift is prophesying, then prophesy in accordance with your faith; if it is serving, then serve; if it is teaching, then teach; if it is to encourage, then give encouragement; if it is giving, then give generously; if it is to lead, do it diligently; if it is to show mercy, do it cheerfully" (Romans 12:6-8).
Remember, these gifts are part of your new nature and are for the kingdom of God. They must be discipled so you understand your gift and have insight into how to interact with other Christians who have different functional gifts. Most Bible commentators do not catch this, but Paul provided correctives for you to consider when interacting with others. My Bible's publisher inserted the subtitle "Love" between Romans 12:8 and 12:9. "Love" is not a new subject, but rather the framework for which Paul describes correctives for each functional gift. Each corrective gives advice to those practicing their functional gift so the gift is balanced with the reality of life.
Let's look at each one of these gifts with just a few of their behavior traits and corrective. I also included some Bible personalities who identify with each of the functional gifts. Remember that God Himself chose the gift that would bless you and those around you to advance the kingdom of God.
The Gift of Prophesying (Romans 12:6b)
The gift of prophesying does not imply foretelling the future. Prophesying is about telling the truth. People with this gift:
Focus on reality, justice, and "doing the right thing"
Are deeply committed to applying the Word of God to world events and everyday life
Will abruptly or impulsively make decisions and want everyone to agree with them
The corrective (Romans 12:9) is to sincerely show love for people, be sensitive to others' emotions, and be open to correction.
The Gift of Serving (Romans 12:7a)
The gift of serving implies coming alongside people to help them succeed. The gift of serving is driven by tireless diligence in order to complete a task. This gift is given to more people than any other gift, which demonstrates its importance in advancing the kingdom. People with the gift of serving:
Serve God through practical and well-defined ministry projects
Always say "yes" when things need to get done and love to volunteer self and family if necessary
Are motivated to get the task done and highly desire recognition for their accomplishments
The corrective for this (Romans 12:10) is to be devoted, but do it with compassionate love. Remember your contribution impacts others' faith, so be relational while accomplishing tasks.
The Gift of Teaching (Romans 12:7b)
The gift of teaching is a logical way to present biblical information that helps people grow. People with the gift of teaching:
Love to see others grow in knowledge and understanding
Show much enthusiasm for life
Appreciate someone who can study and share truth with them
The corrective for this gift (Romans 12:11) is to not allow others to discourage you. Keep your zeal. Remember that people are here for you.
The Gift of Encouraging (Romans 12:8a)
The gift of encouraging is used to build confidence in others. People with this gift:
Want people to grow to be faithful and patient, and trust in Christ
Want people to increase their faith
Have the ability to identify the root of a problem
Do not hesitate to give a specific prescription for people to overcome issues
The corrective for the gift of encouraging (Romans 12:12) is to be careful not to be too success oriented. Practice patience, faithfulness, and hopefulness in Christ.
The Gift of Giving (Romans 12:8b)
The gift of giving is used to provide resources to meet a specific need. People with the gift of giving:
Have the ability to make money and accumulate assets, and are very wise in decisions about money
Use their giving to motivate others to move a ministry forward
Usually want to avoid publicity or recognition
Have great joy when their gifts are an answer to someone else's prayer
The corrective (Romans 12:13) is to remember that God's greatest treasure is in people, not causes. Hospitality and sharing are to be done with God's people first, and then with others as the Holy Spirit leads.
The Gift of Administrating (Romans 12:8c)
The gift of administrating is used specifically to complete tasks for God. Often the words "organizer," "leader," and "one who gives aid" are used interchangeably with "administrator" in the Scriptures. People with the gift of administrating:
Are able to sit, listen, and pinpoint the heart of the matter
Are task oriented and have the ability to bring resources to solve problems and get the job done
The corrective for this gift (Romans 12:14) is to learn to bless people who attack you. Maturity in the Holy Spirit brings a more mellow approach to management. Focus on building relationships with people over getting the job done.
The Gift of Showing Mercy (Romans 12:8d)
The gift of showing mercy is used to keep prayer and concern for the hurting in the forefront of Christian ministry. People with the gift of showing mercy:
Seem to be drawn to people in emotional or physical pain
Are frequently less than honest about things for fear of hurting others' feelings
Are very indecisive and do not like confrontation
The corrective for this gift (Romans 12:15-16) is do not interfere with what God is trying to do in a person's life. This interference takes the form of pride where the person with the gift of showing mercy believes he or she has the better way of solving a problem.
The above functional gifts change your personality to provide the leadership needed to advance the kingdom of God. These gifts are intentional, purposeful, willed, discretionary acts of God's grace. If you are not discipled to understand these seven functional gifts, there can be personality conflicts in your personal life, professional life, and even within the body of Christ. But when you recognize, understand, and implement your gift, you have assurance of God's direction for your life. The result is you advancing the kingdom of God and glorifying Jesus Christ with your life as you serve Him within the will of God.
Equipping Gifts
Every individual has talents (natural abilities) that function independently of the Holy Spirit and are generally related to the arts. The same is true of skills. Skills are learned behaviors based on personal achievement and mental aptitude and are developed through an individual's personal initiative. God uses equipping gifts (1 Corinthians 12:28-31 and Ephesians 4:11-13) to complement your talents and skills. The purpose of these gifts is to strengthen the local church community by helping it accomplish its true task—proclaiming the Gospel and organizing for discipleship.
Equipping gifts are not duplicates of the functional gifts. While the functional gifts are eternal and motivate our personalities to advance the kingdom of God, the equipping gifts are used specifically to supernaturally organize an earthly fellowship. Just so you know, the institutional church that only relies on secular business practices will fail in advancing the kingdom. But, the church that relies on the Holy Spirit's equipping gifts and disciples God's people will succeed in advancing the kingdom. The following is a list of the equipping gifts the Holy Spirit uses to prepare believers in the fellowship along with some supportive verses:
Apostle
God intentionally uses apostles to plant churches and strengthen believers. Another name for "apostle" in the church is "missionary." It is a full-time ministry. When we think of a New Testament missionary, we think of the Apostle Paul who discipled, trained, and encouraged other missionaries (Ephesians 3:1-9; 1 Corinthians 5:7; Acts 2:42; Romans 1:1; 1 Corinthians 2:28). For the church to transition to a fellowship, it needs to use Paul's model for planting churches, but provide 100 percent of the necessary support for that apostle to grow the newly planted church into a fellowship. Eventually, the fellowship will grow to support itself.
Prophet
A prophet speaks of hope and victory in the future because of God's constant presence in our lives. The prophet person in a fellowship reminds us of the fulfillment of biblical prophecies in the Old Testament and never lets us forget those prophecies that are yet to be fulfilled in the last days. His work in the fellowship is to bring assurance and hope to the fellowship from the Word of God (Romans 12:6; Acts 21:8-9, 15:32).
Teacher
A teacher loves to teach the Scriptures in an orderly, systematic manner. An Alexandrian Jew, Apollos, although not formally trained at first, was gifted by God to teach (Acts 18:24-28). Scripture states that first-century disciples, Priscilla and Aquila, "invited him [Apollos] to their home and explained to him the way of God more adequately" (Acts 18:26). Like Apollos, teachers strengthen the fellowship by pointing to the Scriptures as the sole authority and truth. These people may not have formal training, but are still used by the Holy Spirit in Sunday school, Vacation Bible School, etc., to present and defend the faith.
Helper
A local fellowship requires a great deal of workers and maintenance. A helper is one who assists by investing talents and skills toward the efficiency and practical needs of the fellowship. It is important for you to know that helpers are the ones who make the fellowship work.
In writing to the Roman church, Paul commended a woman named Phoebe who had the gift of helping (Romans 16:1-2). He did this for three reasons. First, she was a Christian assigned to equip the church. Second, her service to the church was worthy of being a saint. Third, Phoebe was a great help to Paul's ministry. If the Apostle Paul highly commended Phoebe for her service, then the fellowship should do the same with all the people who God equips to serve the fellowship through helping.
Administrator
An administrator orchestrates the business administration of the fellowship and oversees the important tasks in the fellowship's ministry. For the church to transition into a fellowship, the church should not go outside the fellowship to find secular professional administrators. God has gifted people within each fellowship who are guided by the Holy Spirit and can be effective in this important position.
Evangelist
An evangelist proclaims the Gospel and helps build the fellowship by keeping the Scripture's proclamation of Christ in front of the people (Acts 8:5-8; 2 Timothy 4:5).  Evangelists within a fellowship do not shy away from topics such as sin, repentance, holiness, and righteousness. Evangelists are salt and light in the fellowship so Christians do not stray from the core of the Gospel and the need for true discipleship.
Pastor
"Pastor," "overseer," "bishop," "elder," and "shepherd" are interchangeable in the New Testament. The pastor cares for the fellowship's needs through prayer, ministry, and counseling. He applies the Word of God to the congregation's needs. The calling and appointment are by God, not men, bishops, or popes (Titus 1:7-9; 1 Peter 5:1-3).
Worker of Miracles/Healer/Speaker of Various Kinds of Tongues
These three gifts cause much confusion in the church. Here is the issue: because many churches refuse to seek the Bible to correctly understand the gifts, Christians are confused. The topic of miraculous gifts is a polarizing subject between Christians, church leaders, and denominational persuasions. Christians either reject the miraculous gifts as being active in the world today, or they believe all faithful Christians are able to perform the miraculous gifts. Evangelicals should not put all the blame on charismatics and Pentecostalism for the miraculous gifts being misrepresented. All churches are responsible for teaching the truth of the Scriptures regarding the gifts.
What you need to know is that all three of these gifts are legitimate gifts in the kingdom of God. Signs, wonders, and miracles served specific purposes during biblical history. In the Hebrew Bible, God's use of signs, wonders and gifts in events and personalities pointed to who He is and His sovereignty. Also in the New Testament with the coming of Jesus Christ, His birth, ministry, death, resurrection, and ascension demonstrated God's supernatural sovereignty. God's sovereignty also revealed itself at Pentecost when the Holy Spirit came upon believers.
Signs, wonders, and miracles were also the marks of Jesus' true disciples and the Apostle Paul. Many people came to Christ after witnessing His disciples heal the sick, raise the dead, and communicate in a language not native to the apostles. False prophets were among the Corinthians and caused the church to doubt Paul's authenticity as an ambassador of Christ. Paul assured the Corinthians of his devotion to their growth, and also defended his apostleship against the false apostles when he said, "I persevered in demonstrating among you the marks of a true apostle, including signs, wonders and miracles" (2 Corinthians 12:12).
Today, some pastors have relegated these special gifts to the first-century ekklesia, or church. This is a half truth. Yes, these gifts were used to prove the authenticity of Jesus' disciples in the first-century church, but Scripture is clear that God can use the miraculous gifts today to build up the fellowship of believers. These same gifts are listed in the gifts for the common good (gifts which are given by the Holy Spirit at a particular moment). Not all Christians can heal, perform miracles, and speak an unlearned language to a group of people. But, who are we to judge if God chooses to use a Christian in a particular situation to heal someone?
On the other hand, there are parachurch ministries and some charismatic churches that believe signs, wonders, and miracles are fully active in the lives of believers today. In many of these instances, I have found these to be counterfeit. There are reasons why these gifts have been modified for today's church: (1) not every Christian is gifted in this area; (2) believers have the Holy Spirit living inside of us; and (3) we have the Holy Scriptures to guide our lives. You also need to know that the Bible tells us Satan will use false signs, false wonders, and false miracles in the end times. Jesus warned us about this when He said, "For false messiahs and false prophets will appear and perform great signs and wonders to deceive, if possible, even the elect. See, I have told you ahead of time" (Matthew 24:24-25).
Educate with a Judeo-Christian Worldview
As a student in high school, I remember learning about the 1952 Freedoms Foundation in New York where President-elect Dwight Eisenhower said that America's government subscribes to a Judeo-Christian worldview or ethic. At the core of this worldview is a moral standard of governance given by God to the Israelites and carried over into Christianity. This ethic included sanctity of human life, the importance of the family, a strong work ethic, regard for God's design for marriage, and treating everyone with compassion. The essence of the Judeo-Christian worldview was summarized by Jesus in Matthew 7:12, "So in everything, do to others what you would have them do to you, for this sums up the Law and the Prophets." We call this the "Golden Rule."
Today, the pluralistic worldview of secularism has replaced the Judeo-Christian worldview in America and has infiltrated many of America's churches. So, in order for the church to be a fellowship, it must educate God's people to have a Judeo-Christian worldview. The Judeo-Christian worldview represents biblical authority. Any other worldview bows down to another authority created by mankind's global sense of justice.
I cannot overemphasize that Christian churches need to establish classes within their facilities for discipling families. Christian churches also need to teach apologetics. Bring in experts such as Answers in Genesis or the Institute for Creation Research to explain the biblical account of creation and the legitimacy of the Flood. Pour your efforts into educating children and youth whose worldview will most likely be set by the time they reach the age of thirteen. Offer an alternative to public school education because the progressives are winning over our children with their philosophy. Start schools at your church or support private Christian schools that are legitimate. Guide graduating high school seniors toward Christian universities that educate with a Judeo-Christian worldview and help them with scholarships and other resources. Listen, integrating the Scriptures back into the education of children and youth will produce a generation of believers with a strong Judeo-Christian worldview.
Budget to Advance the Kingdom of God
Churches committed to transitioning to a fellowship must rethink their budgets for ministries, programs, and operations. Often these budgets are determined at least a year in advance, and for some, three to five years in advance. I believe that in order for the Holy Spirit to truly lead a church, the budget cannot be set in stone. This is not a business, but a ministry. Churches need to be able to work with God, move where the Spirit moves, and be unrestricted to respond when God calls them to action.
In addition, if a church believes a private helicopter, a multi-million dollar pastor mansion, or a $100 million building renovation is necessary to accomplish the Great Commission, there is a problem with how that church views its resources and priorities. When church leaders stand before Christ at judgment, I don't think Jesus will reward them for their aviation departments or state-of-the-art sanctuaries. Jesus will reward them for producing disciples.
Think about it: What is more valuable in the kingdom of God? A family who is growing closer to Christ and views life through the Judeo-Christian worldview, or a family who is able to purchase lattes each Sunday in their church's 1,200-square-foot Wi-Fi enabled coffee house? I understand why good-intentioned pastors desire a beautiful church facility. They believe refurbished buildings and amenities will draw people to their campuses. But, when the people come, then what? Just think what could be done with $100 million devoted to discipling congregants with Jesus' teachings. Ax the gymnasium and put the money into classrooms that could be used for discipleship classes or schools. In other words, every church in America should pour its finances into those resources that produce disciples.
Passionately Love and Resource Missionaries
The church's mistreatment of missionaries has upset me for quite some time. Most missionaries receive highly inadequate training before going on the mission field. I am not talking about Bible classes, but the practical training missionaries need to reach a community for Christ. Often these young men and women are turned loose after Bible college to beg churches for money and figure out how to be effective on the mission field. I know of countless churches who may write the check, but do not offer any emotional, spiritual, or practical support to these men and women. To counteract the lack of guidance, many young missionaries seek out information from well-known pastors, authors, and leadership conference keynote speakers who tend to emphasize social justice and good works over evangelism and discipleship.
The missionary/sponsoring church/missionary board relationship is highly regulated with laws and conditions. Often the relationship turns accusatory in the sense the sponsoring church and mission board demand detailed accounts of the missionary's time so they can issue a judgment of the missionary's fruitfulness. I know stories of dedicated men and women serving in tropical countries who were reprimanded by their mission boards for wearing shorts. This is not how a fellowship treats God's missionaries.
For a church to transition into a fellowship, the church must invest more than a meager monthly check. Missionaries have real needs for their living arrangements and are concerned about how their families will adjust to their new surroundings. Missionaries need emotional, spiritual, and financial support, as well as training, so they are better equipped to lead people to Christ and disciple them. This is done best at the local church fellowship level, not at some detached institutional board of directors. Churches, I urge you to take care of God's missionaries so they can do what God has called them to do.
Encourage Discipleship Groups for New and Seasoned Christians
There is no getting around this point: discipleship is the answer to the church's problems. I would go as far to say that discipleship is the answer to America's problems. I know many of America's churches have small groups or life groups that are the church's way of creating connections with other people within a larger congregation. These are not the same as fellowships that focus on discipleship. Small groups often take their cues from the teaching pastor's sermon. So if the pastor preaches on the Book of Nehemiah or tackles a topic such as forgiveness, the small group meets to discuss some follow-up questions. Of course, there is prayer and coffee. This is nice, but it is not discipleship.
Discipleship is an ongoing process of Christians growing in Christlikeness. It is the Holy Spirit who equips believers in this process and enables Christians in a fellowship to love one another, challenge one another, and practice the love of Christ in their lives. Discipleship requires studying and obeying the Word of God so we can take our thoughts captive and assess our actions against Jesus' teachings with each other in fellowship. In other words, discipleship means knowing how to activate everything you have learned in chapter 10.
To be honest, discipleship is not always a warm and fuzzy experience. True biblical discipleship can stretch us more than we could ever imagine. Discipleship requires intimacy, biblical truth, a raw honest look at our hearts and actions, serious accountability, and the goal of reconciliation to Almighty God. It is this process the Holy Spirit uses to help us overcome our life situations and contend successfully in the kingdom of God here on earth.
The church needs to transition from small groups to discipleship groups that support believers who are interested in growing their faith. It could mean changing the content of your small group's get-togethers, or it could mean encouraging individual believers to form smaller fellowships and make discipleship the most important element of their personal ministries. Since the most natural setting for discipleship is within a family, the church needs to make strengthening the family a core requirement for undergirding the fellowship. Where does evil do its most damage? The family. Church fellowships are responsible to help parents lead their children to Christ, help families know how to create fellowships within their families, and then continue to mentor all family members in order for them to grow in faith. A strong family of faith can overcome any plan evil uses to destroy them.
Some Final Thoughts
If the institutional church fails to transition to a fellowship, the only alternative is for the church to be a socially progressive institution of comfort and service to the local community. This type of church is counterfeit and not what Jesus intended for His followers.
So, America has to give up the idea that the institutional church is the organization most qualified to prepare Christians to be effective in our postmodern society. We do not need more megachurches or Christian movements to advance the kingdom of God. We need hundreds of thousands of discipling fellowships throughout America. This means congregants and professional ministers must construct functional fellowships that produce results consistent with the work of the Holy Spirit in people's lives. With progressivism's influence on America today and the increase in Christian persecution, if there was ever a time that Christians need to be part of a genuine fellowship of believers, that time is now. Once you become part of a fellowship, God will strengthen you and use His power through you to win and train more people for the kingdom than you can imagine.
There are a number of passages that address Jesus' intent for a fellowship. The Apostle Paul wrote the following to the Colossian church because it was becoming less of a fellowship and more of an institution. To remind them of what a fellowship looks like, Paul said:
Therefore, as God's chosen people, holy and dearly loved, clothe yourselves with compassion, kindness, humility, gentleness and patience. Bear with each other and forgive one another if any of you has a grievance against someone. Forgive as the Lord forgave you. And over all these virtues put on love, which binds them all together in perfect unity.

Let the peace of Christ rule in your hearts, since as members of one body you were called to peace. And be thankful. Let the message of Christ dwell among you richly as you teach and admonish one another with all wisdom through psalms, hymns, and songs from the Spirit, singing to God with gratitude in your hearts. And whatever you do, whether in word or deed, do it all in the name of the Lord Jesus, giving thanks to God the Father through him. (Colossians 3:12-17)
Chapter 11: Hope for the Church
[i]. "Perry Noble," NewSpring Network, accessed March 31, 2015, https://newspringnetwork.com/coaching/leadership-coaching.
[ii]. "Perry Noble and The Jackass in the Church," Vimeo video, :59, from the 2009 Unleash Conference, posted by Chris Rosebrough, March 9, 2014, accessed March 31, 2015, https://vimeo.com/88595325.
[iii]. Ibid.
SaveSave
SaveSaveSaveSave
SaveSave
SaveSave