Dear Pastor,
The Christmas season is an exciting time of year for most pastors in America. As you and your staff transform your place of worship with colored lights and decorated trees, your congregants are building up their courage to invite family, friends, co-workers, and neighbors to participate in your church's Christmas services. Remember, these seasonal visitors fall into a variety of faith categories: professing Christian, unchurched, "none" (nothing in particular), atheist, agnostic, and practicing another religion (not Christian). The holiday decorations might make your guests feel warm and happy, but if you only offer these precious visitors feelings of warmth and comfort, you have totally squandered the opportunity God has given you to tell them the truth about the Christmas story.
Pastor, this letter is a humble plea for you to deliver the Christmas story in its fullness. You must do more than re-enact Jesus' birth. You must tell them why Jesus' birth was necessary. Because of God's deep abiding love for us, He found a way to restore mankind from our sinful condition to our original state of relationship with Him. It includes calling for our repentance and our acceptance of Jesus' death and resurrection. As you prepare your sermons this December, consider these three points to encourage your congregants and guests who are searching for truth this Christmas season.
The Christmas Story Brings Meaning and Purpose to People's Lives
The Christmas story is God's intentional plan to gift us with unmerited grace. After God and His Son created mankind to have a relationship with Him, Satan interfered with an unrelenting desire to rid this planet of God's glory. That included destroying God's creation with the introduction of sin into man's heart. God sacrificed His Son, Jesus Christ, to purchase our salvation, regenerate the hearts of mankind, and restore creation to Him. Without God's intervention into history with Jesus' birth, we would have no meaning and purpose for our short-lived lives on earth. A life without Jesus will never truly satisfy the human heart. Our meaning and purpose is declared when Jesus Christ lives at the center of everything we do. It is only with Jesus in our hearts that we can understand who we are in Christ and how to live in the kingdom of God now.
The Christmas Story Makes It Possible to Have a Relationship with the King of Kings and Lord of Lords
Jesus' birth was necessary for us to have a relationship with Him. Even though Jesus is divine, He is also human. Jesus has human emotions and feelings. He understands suffering and pain. Jesus knows how difficult it can be to navigate life and make decisions about family, friends, and work. The Good News is that to make it in this world, all we need is a relationship with Jesus. We do it through humbling ourselves before Jesus, not as a baby in a manager, but as our Savior and Lord. When a person repents of his or her sinful life to Christ, He accepts the prayer, gives eternal life, and strengthens the believer with the Holy Spirit. His Holy Spirit lives inside every Christian, and provides help with gifts, guidance, and blessings to enrich life here on earth.
The Christmas Story Makes It Possible to Have Genuine Hope And Joy
I'm going to burst your bubble about the song, "Joy to the World," (Isaac Watts, 1719). This song, based on Psalm 98, is not about Jesus' birth; it's about His return. Yes, His physical birth on earth was necessary for God's plan. However, "Joy to the World" is about our hope in the Second Coming of our Lord, Jesus Christ, and the joy we have as we anticipate His return and judgment. Verse 4 states:
He rules the world with truth and grace,

And makes the nations prove

The glories of His righteousness,

And wonders of His love,

And wonders of His love,

And wonders, wonders, of His love
"Joy to the World," reflects the blessed hope believers have in fully experiencing the glory of God at Jesus' second coming. Pastors, share with your congregants and seasonal visitors how they all can experience hope and joy now in the fellowship of believers—the church. Just as the Apostle Paul encouraged his audience with messages of peace, hope, and joy through faith in Jesus Christ, pastors today must do the same. Paul said:
Therefore, having been justified by faith, we have peace with God through our Lord Jesus Christ, through whom also we have access by faith into this grace in which we stand, and rejoice in hope of the glory of God. And not only that, but we also glory in tribulations, knowing that tribulation produces perseverance; and perseverance, character; and character, hope. Now hope does not disappoint, because the love of God has been poured out in our hearts by the Holy Spirit who was given to us. (Romans 5:1-5; NKJV)
You Are Called to Share the Full Gospel
Pastor, you are entrusted with the greatest message in the history of the world. That message includes Jesus' birth, but there is so much more to the story. Your congregants and visitors are desperate to know Jesus Christ, the Savior of the World and the Lord of Lords. Promise them all that if they return to your church in January, you will teach them the Scriptures, disciple them to understand who they are in Christ, and explain what it means to be a citizen in the kingdom of God now. Come January, follow through with your promise and commit your life and ministry to proclaiming the full Gospel, and helping those in your congregation grow in their faith with Jesus Christ.
Have a blessed Christmas!
James Darnell
---
James T. Darnell, Jr. is Lead Pastor at NETAFIRM and co-author of Saving the Saved: How the Church's Greatest Omission Led to a Post Christian America. Prior to his work at NETAFIRM, he pastored for over thirty years, authored two other books, worked as an adjunct professor in Religion and Philosophy, and was co-founder and President of the American Biblical Institute. James earned a B.A. in Philosophy and Religion from Elizabethtown College, a M.Div. degree from Asbury Theological Seminary, and a M.Ed. from Indiana University. He is also a certified group leader through the Bureau of Studies in Adult Education at Indiana University.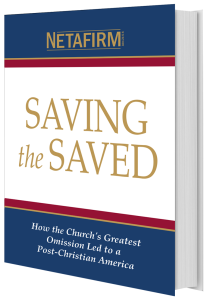 Saving the Saved is available at Amazon.
SaveSave
SaveSave
SaveSave