He popped the question. She said, "Yes!" Now what?
Throughout my years in ministry, I have seen my fair share of young couples get married and begin their lives together. Many of these enthusiastic couples came to me seeking premarital counseling. I've read the books. I've seen the curriculum. Most premarital resources have practical elements of discussion that can be of value such as: 1) how the in-laws fit in to the relationship; 2) how to handle conflict; and 3) expectations for friends, work, and communication. Christian counseling hopefully digs a bit deeper and addresses how the couple must put Christ first. Even in Christian premarital counseling, there is information that is not usually emphasized but weighs heavily on what couples need to know. A careful study of passages in Genesis and Ephesians sheds light on some important information for young couples considering marriage.
Your Salvation Experience Is Vital for the Foundation of Your Marriage
God has a plan for every believer's life. That plan started in the Genesis account with God's plan to redeem mankind, and was implemented through Jesus' death and resurrection. Christ's sacrifice made it so when a man or woman professes Jesus Christ as Savior and Lord, their hearts are regenerated and they are recipients of eternal life. The Scriptures tell us at this point, a sanctification process starts. The purpose here is for each Christian to be spiritually separated from the world and brought into the family of God, the church. The covenant of marriage is the physical representation of how Christ sets apart and oversees His church.
When the Scriptures Refer to the Marriage Union Between One Man and One Woman as "One Flesh," the Emphasis Is on the Spiritual Union, Not the Physical Union
Yes, sex is wonderful and ordained by God to be that way. But, think of it like this: the marriage relationship is the closest representation of the relationship Jesus has with His church. The Apostle Paul makes it clear what it means for two people to become "one flesh." He does this by comparing Christ's relationship to the church with the husband's relationship to his wife. Since Jesus taught how the church is set apart for Him (the Bridegroom), so it is in the marriage relationship.
The Husband
The Apostle Paul wrote, "For the husband is the head of the wife as Christ is the head of the church" (Ephesians 5:23). "Head of the wife" does not mean the husband controls his wife's decisions or demands his wife's respect out of personal selfishness and recognition. Instead, his headship is related to how he brings his wife closer to Christ. In fact, the husband should encourage his wife to love Jesus more than himself. In Ephesians 5:25-27 Paul uses five verbs in his language to describe how the husband is to sanctify the wife: "Husbands, love your wives, just as Christ loved the church and gave himself up for her to make her holy, cleansing her by the washing with water through the word, and to present her to himself as a radiant church, without stain or wrinkle or any other blemish, but holy and blameless."
The husband's non-selfish acts of love and sacrifice are not just a list of words, but have an intentional, godly purpose. Christ loved the church, Christ gave Himself to the church, Christ made the church holy, Christ cleansed the church, and Christ will ultimately present the church to Himself in full splendor and without any defect. Jesus sanctified, or set apart, the church to become one united body to bring God the fullest glory. In the same way, it is the Christian husband's God-ordained purpose to sanctify his wife by practicing these five things in marriage. The result is the husband continually equips his wife to be everything she can be for the kingdom of God.
The Wife
Paul wrote, "Wives, submit yourselves to your own husbands as you do to the Lord" (Ephesians 5:22). Listen to my next statement: The wife's act of submission reminds her husband of who he is in Christ. When the woman leads by submitting to her husband's spiritual leadership, any selfishness that resides in her husband's heart is set aside and he is willing to seek after the Lord's will. This is a good thing. Remember Paul also said, "Submit to one another out of reverence for Christ" (Ephesians 5:21). For the wife to fulfill her role as a true helper (see Genesis 2:18), there needs to be an agreement towards oneness—a mutual responsibility for spiritual growth. A relationship such as this comes closest to what God initially created in the Garden of Eden with Adam and Eve before the Fall. This kind of marriage reaps rewards such as spiritual accountability, intimacy, genuine friendship, and deep love. The couple's marriage then becomes a ministry and witness for their church, family and community.
Much more can be said about these beautiful passages in Ephesians. I suggest to each couple considering marriage to open your Bibles and study Paul's entire letter to the Ephesians. Focus on separating yourselves from the worldly cares and place your affections on Christ. When you do this, you will receive great joy and assurance that God is working His plan for each of you within your marriage. In addition, He has supplied a helper, the Holy Spirit, who guides you, comforts you, and reveals God's plan for your life together as you read God's Word, pray, and faithfully trust Him for all your needs in life.
---
James T. Darnell, Jr. is Lead Pastor at NETAFIRM and co-author of Saving the Saved: How the Church's Greatest Omission Led to a Post-Christian America. Prior to his work at NETAFIRM, he pastored for over thirty years, authored two other books, worked as an adjunct professor in Religion and Philosophy, and was co-founder and President of the American Biblical Institute. He has taught and lectured across America on a variety of biblical topics. James earned a B.A. in Philosophy and Religion from Elizabethtown College, a M.Div. degree from Asbury Theological Seminary, and a M.Ed. from Indiana University. He is also a certified group leader through the Bureau of Studies in Adult Education at Indiana University.
Contact Pastor James directly at james@netafirm.org.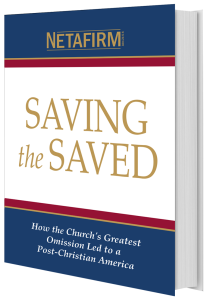 Saving the Saved is available at Amazon.